Project Moore reinforces its position as 'leading IT law firm'
The Legal 500 acknowledges Project Moore as one of the most cutting edge and innovative IT law firms in the Netherlands.
In the 2016 edition Project Moore has moved up a tier, reinforcing its reputation as leading law firm and acknowledging that Project Moore makes a difference.
"We are proud of this achievement, mostly because it reflects how we add value to our clients' business", says Jeroen Koëter, one of the firm's founders. "We consider this our greatest reward."
The Legal 500 ranking is the outcome of an annual analysis of the global legal market, based on feedback from clients and peers.
You can view our Legal 500 ranking here.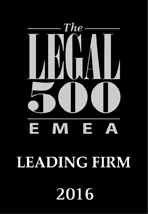 Author